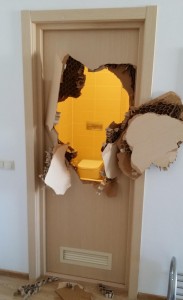 Team USA's Johnny Quinn, who is a member of the 2014 Bobsleigh team, was showering in his Olympic village accomodation. He soon discovered that the Locksmith who fitted the lock had made a terrible job!
As he didn't have a phone with him, he decided to try out for the Karate team – By kicking his way out!
We at Cusworth's, Macclesfield Locksmiths, have on many occasions helped embarrassed customers out of bathrooms – Rest assured, we are always discrete!